Brass Day
Mark your calendars!
Brass Day 2018 will take place on Saturday, October 27 (9 a.m. - 5 p.m.), featuring an opening concert on Friday, October 26 with event partners London Citadel Band.

Brass Day is an annual celebration of brass. This year's program features guest artist Patrick Sheridan, tuba. Patrick Sheridan is one of the most celebrated soloists in his instrument's history. He has performed more than 3,000 concerts in over 50 countries in venues ranging from the White House to NBA half-time shows to the Hollywood Bowl.
Brass Day includes concerts, clinics and a vendor room. Open to brass enthusiasts of all ages.
Masterclasses and workshops
Lessons and clinics
Concerts featuring guest artists, Western faculty and students
And more!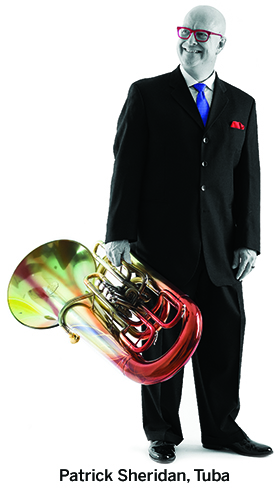 Concert:
Friday, October 26, 2018, 7:30 p.m.
London Citadel
555 Springbank Drive
London
Cost: $10 at door or call 519-472-2500
London Citadel Band
London Citadel Band - Facebook
Workshop:
Saturday, October 27, 2018, 9:00 a.m. - 5:00 p.m.
Don Wright Faculty of Music
1151 Richmond Street
London
Cost: $25 (includes lunch)
Contact Sasha Gorbasew for more information.
Phone: 519-661-2111 ext. 80532
E-mail: agorbase@uwo.ca
Agenda:
9:30am-2:00pm
Registration desk open – Talbot College Atrium ("Airport Lounge")

10:00-10:15am
Welcome – Von Kuster Hall Music Building

10:15am-11:20am
Breathing Gym® Basics with Patrick Sheridan
Learn the how and why behind the world's most popular breathing method for instrumental and choral improvement. Explore the anatomically correct way to teach posture which will allow for the freedom of movement necessary to create characteristics sounds vocally and instrumentally. The content and sequencing of the Breathing Gym® exercises will be introduced in this activity based clinic.

11:30am-12:30pm
"Creativity in brass playing and the music around us." A new brass composition by Tate Pumfrey.

This session will feature a new chamber piece for brass (3 trumpets, horn, tenor trombone, bass trombone and tuba) performed by some of our brass faculty and brass students. This will offer a unique insight on how a composer writes new music for brass instruments and how performers handle new music for performance.

12:30-1:30pm
Lunch – Talbot Cafeteria/ Exhibits will be open in Talbot College rooms 100 and 101

1:30-2:30pm
Talbot College rooms 100 and 101, atrium.

This will be an informal hour where participants can visit the exhibit area and try new instruments, music and accessories for brass. We will have exhibitors from Long &McQuade, Yamaha Music Canada and Jupiter Musical Instruments on site. Students and participants will have an opportunity to chat with Patrick Sheridan and our brass faculty members. Some mini-lesson opportunities may be available (time permitting).

2:30-4:30pm
Masterclass with guest artist– von Kuster Hall (Music Building)
Brass students from the Don Wright Faculty of Music students will perform pieces for Patrick Sheridan, who will offer insights and advice on how to bring their playing to the next level.
Maps and Directions to Western Campus
Parking Lot Map
Sponsors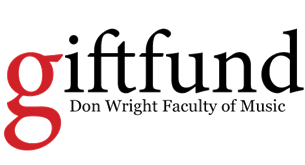 ---
We hope you can join us! Pictured below are the Brass faculty: Musica Quinta

Left to right: Brent Adams (tuba), Aaron Hodgson (trumpet), Shawn Spicer (trumpet), Ron George (horn) and John Jasavala (trombone)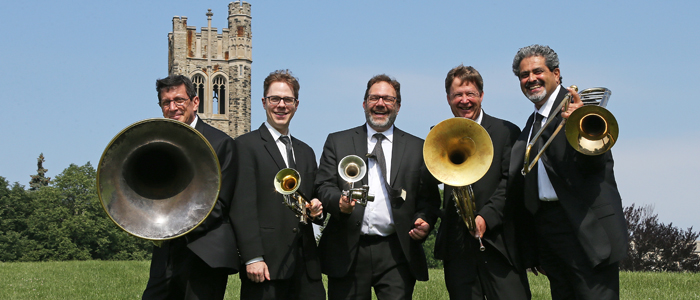 Contact Information
---
Sasha Gorbasew
Phone: 519-611-2111 ext. 80532
E-mail:
agorbase@uwo.ca