Parsons and Poole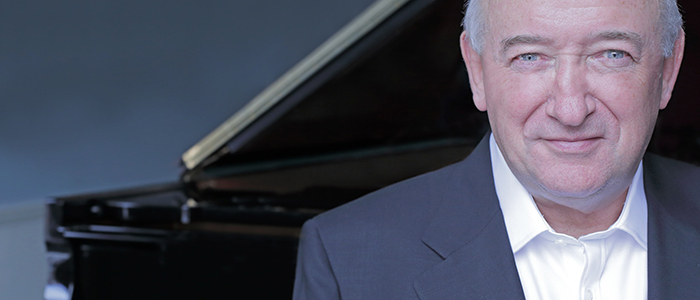 Featuring pianist John O'Conor
It has become October's hot ticket in London: the Parsons and Poole Legacy Concert. Created by alumni to honour Margaret Parsons and Clifford Poole, the Friday concert and Saturday masterclass brings world-class musicianship to Western's campus.
This year we are pleased to welcome internationally-acclaimed Irish pianist John O'Conor, Professor of Music and Chair of the Piano Division at Shenandoah Conservatory in Virginia, as the guest artist.
Parsons & Poole Legacy Concert
Date: Friday, October 7, 2016
Time: 8 p.m.
Location: Paul Davenport Theatre, Talbot College
Program: Haydn's Sonata in b minor Hob XVI No. 32; Beethoven's Sonata in f minor Op. 2 No. 1; Haydn's Sonata in F Hob XVI No. 23; and Beethoven's Sonata Op. 13 ("Pathétique").
Cost: $40 general admission, $15 students/seniors
Tickets: Purchase via The Grand Theatre box office online or via phone: 519-672-8800
Masterclass with John O'Conor with piano students from the Don Wright Faculty of Music
Date: Saturday, October 8, 2016
Time: 11 a.m.
Location: Paul Davenport Theatre, Talbot College
Admission: Free (no registration or advance purchase required)
About John O'Conor:
"A pianist of unbounding sensitivity" (Gramophone) ; "He represents a vanishing tradition that favors inner expression and atmosphere over showmanship and bravura" (Chicago Tribune) ; "Impeccable technique and musicality … it would be hard to imagine better performances" (Sunday Times – London) ; "This artist has the kind of flawless touch that makes an audience gasp" (Washington Post); "Exquisite playing" (New York Times).

The Irish pianist John O'Conor has been gathering wonderful reviews for his masterly playing for over forty years. Having studied in his native Dublin, in Vienna with Dieter Weber and been tutored by the legendary Wilhelm Kempff his unanimous 1st Prize at the International Beethoven Piano Competition in Vienna in 1973 opened the door to a career that has brought him all around the world.

He has performed with many of the world's leading orchestras including the London Symphony, Royal Philharmonic, Czech Philharmonic, Vienna Symphony, l'Orchestre National de France, the NHK Orchestra in Japan and the Atlanta, Cleveland, San Francisco, Dallas, Montreal and Detroit Symphonies in North America. He has given concerts in many of the world's most famous halls including Carnegie Hall and the Lincoln Center in New York, the Kennedy Center in Washington, the Wigmore Hall and South Bank Centre in London, the Musikverein in Vienna, the Dvorak Hall in Prague and the Bunka Kaikan in Tokyo. He enjoys collaborating in Lieder recitals and performing chamber music with many instrumentalists and ensembles such as the Cleveland, Tokyo, Vanbrugh, Vermeer, Takacs, Vogler and Ying Quartets.

John O'Conor first gained widespread attention in the USA in 1986 with the release of his first volume of Beethoven Sonatas on the Telarc label. He went on to record the complete Sonatas and these were issued as a box set in 1994. CD Review described Mr. O'Conor's performances as "recordings of the highest calibre and Beethoven playing at its best". Mr. O'Conor has made more than 20 recordings for Telarc, including the complete Beethoven Bagatelles (cited by the New York Times as the best recordings of these works) and Mozart Concertos with Sir Charles Mackerras and the Scottish Chamber Orchestra. He has also recorded the complete Nocturnes, Sonatas and Concertos of the Irish Composer John Field.

In 2007 and 2008 he recorded the complete Piano Concertos of Beethoven with the London Symphony Orchestra conducted by Andreas Delfs and these have been greeted with great acclaim.

Prof. O'Conor is regarded as one of the most important piano teachers in the world today. He is Distinguished Artist in Residence, Professor of Music and Chair of the Piano Division at Shenandoah Conservatory in Virginia, a faculty member at the Glenn Gould School of the Royal Conservatory of Music in Toronto, International Visiting Artist at the Royal Irish Academy of Music and Visiting Professor at Showa University in Japan. His students have won many international prizes (most recently First Prizes at the Maria Canals Competition in Barcelona in 2012 and the Beethoven Competition in Bonn in 2013) and he is in great demand for masterclasses and as a juror at the most prestigious International Piano Competitions worldwide.

For his services to music he has been awarded Honorary Doctorates by the National University of Ireland, by Trinity College Dublin, by the Dublin Institute of Technology and by Shenandoah University, the title "Officier de l'Ordre des Arts et des Lettres" by the French Government, the "Ehrenkreuz für Wissenschaft und Kunst" by the Austrian Government, the Order of the Rising Sun by the Japanese Government and has received many other awards.

John O'Conor is a Steinway Artist.
Margaret Parsons and Clifford Poole
Glamorous, talented and world-famous, the husband and wife pianists were not typical professors at Western in the 1950s. Margaret Parsons and Clifford Poole balanced performance tours as a piano duo with teaching and inspiring young musicians. They also recorded their work, created educational materials and started the Gilbert & Sullivan productions still going strong in London today.
They came to London in 1948 to teach at the Western Ontario Music Conservatory, Music Teachers' College and Department of Music at Western. Already well known, the pair joined the staff two years after Alfred Rose, Gustav Mahler's nephew. Over the next few years, the three organizations evolved, each focusing on a different level of music education. As J.R.W. Gwynne-Timothy wrote in his Western's First Century: "The concerts of the well-known piano duo, Clifford Poole and his wife Margaret Parsons, carried far and wide the name of music at Western as public relations emissaries for the college."
A group of alumnae who studied with Parsons and Poole created an artist-in-residence program, called the Parsons-Poole Legacy Project to carry their names into the future.  The project gives students an opportunity to study with musicians who bring the same level of acclaim and expertise as Parsons and Poole.
The benefits of the Parsons-Poole Legacy Project will go beyond the music faculty, providing opportunities for inter-disciplinary scholarship and cultural enrichment for the community. This is a fitting continuation of the kind of projects the duo undertook while in London. They composed and arranged piano music for young players, and their Parsons-Poole Festival Piano Series and Poole's many pedagogical piano pieces remain favourites. The pair also established a community concert series and toured to many Ontario towns and cities, often with students to showcase their talents and gain experience in performing.
Past Parsons and Poole Legacy Concert Performers
Anagnoson and Kinton, piano duo, October 2015
Angela Hewitt, October 2014
Menahem Pressler, October 2013
Andre LaPlante, October 2012