Parsons and Poole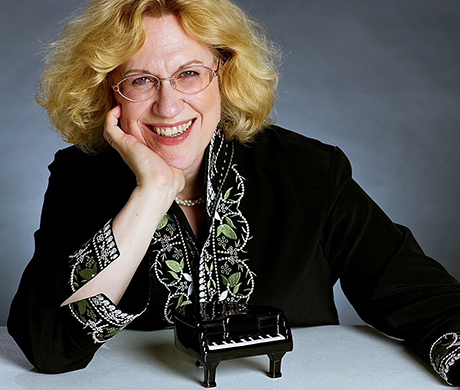 Featuring pianist Sara Davis Buechner
It has become October's hot ticket in London: the Parsons and Poole Legacy Concert. Created by alumni to honour Margaret Parsons and Clifford Poole, the Friday concert and Saturday masterclass brings world-class musicianship to Western's campus.
This year we are honoured to welcome internationally renowned pianist Sara Davis Buechner as the guest artist.
Parsons & Poole Legacy Concert
Date: Friday, October 5, 2018
Time: 8 p.m.
Location: Paul Davenport Theatre, Talbot College
Cost: $40 general admission, $15 students/seniors if purchased in advance (cost is $45/$20 at the door - cash only) If purchasing tickets at the door, the Paul Davenport Theatre box office will open approximately 45 mins before the performance begins.
Tickets: Purchase online or contact the Grand Theatre by phone 519-672-8800. There will also be tickets available for purchase at the door.
Program: Planned program includes: Mozart (Fantasy in D minor KV7; Sonata in D major KV 284 "Durnitz"; Sonata in A minor KV 310); Gershwin (Rhapsody in Blue - solo arrangement by the composer); and Dana Suesse's Jazz Nocturne (1931) and The Cocktail Suite (1942).
Masterclass with Sara Davis Buechner with piano students from the Don Wright Faculty of Music
Date: Saturday, October 6, 2018
Time: 11 a.m.
Location: Paul Davenport Theatre
Admission: Free (no registration or advance purchase required)
About Sara Davis Buechner:
Noted for her musical command, cosmopolitan artistry, and visionary independence, Sara Davis Buechner is one of the most original concert pianists of our time. Lauded for her "intelligence, integrity and all-encompassing technical prowess" (New York Times), "thoughtful artistry in the full service of music" (Washington Post), and "astounding virtuosity" (Philippine Star), Japan's InTune magazine sums up: "Buechner has no superior."
In her twenties Ms. Buechner earned a bouquet of top prizes at the world's premiere international piano competitions — Queen Elisabeth (Brussels), Leeds, Mozart (Salzburg), Beethoven (Vienna), and Sydney. She was a Bronze Medalist of the 1986 Tschaikowsky Competition in Moscow and the Gold Medalist of the 1984 Gina Bachauer International Piano Competition.
Ms. Buechner has performed in every state and province of North America — as recitalist, chamber musician and soloist with top orchestras like the New York Philharmonic, San Francisco Symphony and Philadelphia Orchestra; and in venues such as Carnegie Hall, the Kennedy Center and the Hollywood Bowl. She has toured throughout Latin and South America and Europe; and she enjoys a special following in Asia, where she has been a featured soloist with the Sydney Symphony, New Zealand Philharmonic, New Japan Philharmonic and Shanghai Philharmonic, among many others.
She has commissioned and premiered important contemporary scores by composers such as Michael Brown, John Corigliano, Ray Green, Dick Hyman, Vitězslavá Kaprálová, Jared Miller, Joaquín Nin-Culmell, and Yukiko Nishimura. Ms. Buechner's performance versatility extends to unique collaborations with film and dance (including tours with the Mark Morris Dance Group, and Japanese kabuki-mime-mask dancer Yayoi Hirano).
Ms. Buechner has released numerous acclaimed recordings of rare piano music by composers such as Rudolf Friml ("a revelation" — The New York Times), Dana Suesse, Joseph Lamb, Joaquín Turina, Miklós Rózsa, and Ferruccio Busoni (including the world première recording of the Bach-Busoni "Goldberg" Variations). Stereophile magazine selected her Gershwin CD as "Recording of the Month," and her interpretation of Hollywood Piano Concertos won Germany's coveted Deutsches Schauplatten Preis. Most recently her recorded traversal of the score to Carl Dreiser's silent movie classic Master of the House (1925) may be heard on Criterion Collection DVD.
Sara Davis Buechner joined the faculty of Temple University's Boyer College of Music and Dance in 2016, after previously teaching at the Manhattan School of Music, New York University and the University of British Columbia. She has presented masterclasses and workshops at major pedagogic venues worldwide, adjudicated important international piano competitions, and is also a contributing editor for Dover Publications International. In 2017 Ms. Buechner marked her 30th year as a dedicated Yamaha Artist.
As a proud transgender woman, Ms. Buechner also appears as a speaker and performer at important LGBTQ events, and has contributed interviews and articles about her own experience to numerous media outlets worldwide.
Sara is a dual American-Canadian citizen who makes her home in Philadelphia.
Margaret Parsons and Clifford Poole
Glamorous, talented and world-famous, the husband and wife pianists were not typical professors at Western in the 1950s. Margaret Parsons and Clifford Poole balanced performance tours as a piano duo with teaching and inspiring young musicians. They also recorded their work, created educational materials and started the Gilbert & Sullivan productions still going strong in London today.
They came to London in 1948 to teach at the Western Ontario Music Conservatory, Music Teachers' College and Department of Music at Western. Already well known, the pair joined the staff two years after Alfred Rose, Gustav Mahler's nephew. Over the next few years, the three organizations evolved, each focusing on a different level of music education. As J.R.W. Gwynne-Timothy wrote in his Western's First Century: "The concerts of the well-known piano duo, Clifford Poole and his wife Margaret Parsons, carried far and wide the name of music at Western as public relations emissaries for the college."
A group of alumnae who studied with Parsons and Poole created an artist-in-residence program, called the Parsons-Poole Legacy Project to carry their names into the future.  The project gives students an opportunity to study with musicians who bring the same level of acclaim and expertise as Parsons and Poole.
The benefits of the Parsons-Poole Legacy Project will go beyond the music faculty, providing opportunities for inter-disciplinary scholarship and cultural enrichment for the community. This is a fitting continuation of the kind of projects the duo undertook while in London. They composed and arranged piano music for young players, and their Parsons-Poole Festival Piano Series and Poole's many pedagogical piano pieces remain favourites. The pair also established a community concert series and toured to many Ontario towns and cities, often with students to showcase their talents and gain experience in performing.
Past Parsons and Poole Legacy Concert Performers
Charles Richard-Hamelin, October 2017
John O'Conor, October 2016
Anagnoson and Kinton, piano duo, October 2015
Angela Hewitt, October 2014
Menahem Pressler, October 2013
Andre LaPlante, October 2012