Competitions
Competitions at the Don Wright Faculty of Music give students an exceptional performance experience, and several allow for significant financial awards and scholarships.
Depending on the competition, some rounds are open to the public. All winners have the opportunity to play with an ensemble or a solo recital (Pattison). For complete public performance information, and (for current students) to learn how to apply, visit each competition webpage.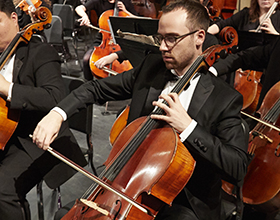 Awarded to any undergraduate or graduate student in the Don Wright Faculty of Music on the basis of performance excellence demonstrated in solo concerto competition, this annual competition has been a highlight for many students over the years.
---
The Fred Pattison Piano Award at the Don Wright Faculty of Music is awarded to the winner of an annual piano competition.
---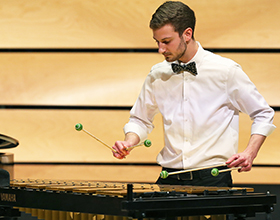 This competition offers an exciting opportunity for WBP students at Western to compete to perform a concerto with the Western University Wind Ensemble or Symphonic Band.
---
Contact
Music Performance Studies Department - Student Inquiries
Dr. Sophie Roland 
519-661-2111 ext. 85402
sroland2@uwo.ca
Undergraduate Assistant
Catherine Fraser
Talbot College, room 210
519-661-2111 ext. 85402
mpsdept@uwo.ca