First-Person Science team – including PhD Candidate Chantal Lemire – awarded 2020 CAN Outreach and Advocacy Award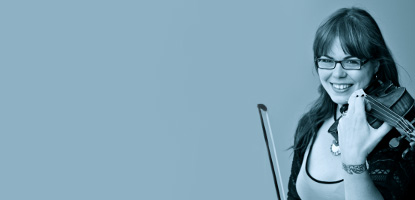 Chantal Lemire, violinist, violist, and PhD candidate (Music Theory), is part of the First-Person Science Initiative team recently awarded the Canadian Association for Neuroscience's prestigious 2020 CAN Outreach and Advocacy Award. This award recognizes the important efforts of First-Person Science to present information about neuroscience discoveries in a way that is accessible to the public through interactive live stream conversations with researchers. These efforts to bridge the gaps between scientists and the public through real-time engagement and honest, open and accurate sharing of peer-reviewed data are much needed in these times when misinformation spreads rapidly.
First-Person Science is the first, and only, podcast thoroughly exploring neuroscience research articles featuring first-person perspectives and narratives from the scientist(s) themselves. It introduces a new way to discover and engage with neuroscience research using a casual 'journal club podcast' approach. Viewers can expect to learn cool facts and get a general background for everything related to each episode's journal article through a visually immersive and accessible approach to science communication.
Roger Hudson (founder)
Mina Nashed
Bryan Jenkins
Stephen Daniels
Paul Sheppard
Daniel Palmer
Thomas Lapointe
Marieka DeVuono
Chantal Lemire

Chantal Lemire is a violinist, violist, and PhD candidate in music theory at Western University, where she studies the intersections of speech and music in the context of performance poetry, spoken word, and spoken-word songs. She is also a music theorist and developer for the Anima Project, an international research collective exploring how artificial intelligence can amplify the potential for human musical expression, as well as Director of Programming and Development for Ontario's Orchestra North Summer Music Program.

Related links