Mei Lee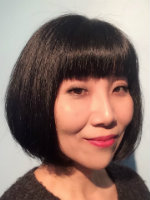 DMA Candidate
Performance-Voice
Email: mlee725@uwo.ca
Soprano Mei Lee is a performing artist, voice educator, and certified instructor of the Alexander Technique, an effective mind-body method to enhance musical performance.  She holds both a Bachelor of Music with Honours and a Master of Music in Vocal Performance degree from the University of Toronto, where she studied voice and vocal pedagogy with Lorna MacDonald, and is currently in her final year of the DMA studies at Western, under the tutelage of Professor Patricia Green and Dr. Kari Veblen. For her doctoral research, Ms. Lee is integrating her expertise in both voice and the Alexander Technique to investigate successful practices of the Technique at the post-secondary level that complement musical performance studies while promoting young musicians' health and wellbeing.
A frequent performer in operas, oratorios, concerts and recitals, Mei Lee has been engaged to perform in Canada and abroad with the Canadian Opera Company, Mooredale Concert Series, Taipei Philharmonic Chorus, and Taiwan National Symphony Orchestra among others.  Highlights of her engagements include The Handmaid's Tale (Ruders), Carmen (Bizet), La Traviata (Verdi), Faust (Gounod), Lady MacBeth of Mtsensk (Shostakovich), Bastien und Bastienne (Mozart), Messiah (Händel), and St. John's Passion (Bach).  Many of Ms. Lee's performances have been broadcast on radio, including the world premiere of Canadian composer Imant Raminsh's cantata In the Trail of the Wind, In the Shadow of God, which received critical acclaim.  Most recently, she gave a lecture recital that examined and presented the life and songs of Austrian composer Viktor Ullmann, whose vocal compositions only became publicly available in 2004, 60 years after his murder in Auschwitz.
In addition to her performing career, Mei maintains an active teaching practice of both voice and Alexander Technique in Toronto and London, Ontario.  Her pedagogical approach to integrating voice studies with the Alexander Technique is successfully bringing out the innate potential of her students, many of whom have been accepted into graduate and undergraduate voice programs and won vocal competitions. As an in-demand lecturer and an advocate for musicians' health and wellness, Mei has been invited to give workshops, lectures and masterclasses to university and high school music programs as well as Alexander Technique training schools in Canada and overseas, including the University of Toronto, Soochow University in Taiwan, and the Ottawa School of the Alexander Technique.  Since 2015, Mei has been conducting Alexander Technique workshops, lessons and masterclasses at the Don Wright Faculty of Music in addition to her academic studies and private teachings.
Mei Lee has served on various professional and academic committees including the program committee of Western University Graduate Symposium on Music in 2017.  Her professional memberships include NATS, CAEA and CanSTAT, where she served as treasurer and member of council. When Mei is not singing, teaching, or conducting research, she cooks and enjoys watching foreign film and TV series.