Martin Ross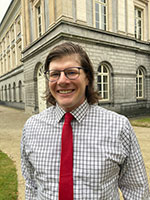 PhD Candidate
Music Theory
Office: TC 427
Email: mross255@uwo.ca
Martin Ross is a PhD candidate in Music Theory with a research focus on music and minimalism. His dissertation, "Gesture in Steve Reich's Music and its Signification: New Referential Approaches," uses gesture and Peircean semiotics to explore subjective levels of attention, influence, and understanding in Steve Reich's music from the late 1960s to the mid 1980s. He has presented his research at theory and musicology conferences across North America and Europe.
In his time at Western, Martin has held multiple academic and service positions. He was a member of Western's Graduate Education Council and sat on the Music Theory Midwest executive board as a student representative. He also served as the graduate Accessibility Commissioner, Chief Returning Officer, and a member of council for the Society of Graduate Students at Western. In 2019, Martin coordinated the 20th Annual Western University Graduate Symposium on Music.
Additionally, Martin takes great interest in teaching music theory. He is particularly fascinated in applying Team-Based Learning and the flipped-classroom methods in the undergraduate theory curriculum. He is a two-time recipient of the Western Graduate Student Teaching Assistant award for demonstrating excellence and dedication in the classroom.
Martin holds a Bachelor of Music degree in Clarinet Performance, with distinction, from University of Nebraska-Lincoln (2013) and a Master's in Music degree in Music Theory from University of Massachusetts-Amherst (2015).