Frangel Lopez-Cesena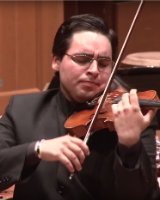 DMA Candidate
Performance - Violin
Office: TC 431
Email: flopezce@uwo.ca
Mexican violinist, Frangel López-Ceseña, began his musical studies at the Baja California Sur School of Music under Luis Peláez-Garcia. As a talented youth, he was concertmaster of the Youth Symphony Orchestra of Mexico and performed in the First International Meeting for Peace, Tolerance, and Dialogue, a project supported by the legendary conductor, Claudio Abbado. Frangel has been invited to play at the Camerata de las Américas and the National Symphony Orchestra (Mexico) and appeared as guest soloist with a number of Mexican orchestras such as the Philharmonic Orchestra of Zacatecas, performing the Tchaikovsky Violin Concerto.
Already one of Mexico's bright young talents at age 27, Frangel has performed all over Mexico, the US, Canada, Italy, Germany, France, and Portugal sharing the stage with musicians like Patricia Ahern, Horacio Franco, Vladimir Mendelsohn, Alondra de la Parra, Francisco Savín, and Anatoli Zatin. He has participated in numerous master classes offered by internationally known violinists, for example, Martin Chalifour, Michael W. Davis, Joseph Gold, Ryu Goto, Paul Huang, Pavel Popov, Jorge Risi, and Alexander Treger. He also has taken master classes with the Borromeo String Quartet and the Cuarteto Latinoamericano. He has earned first prize in both the 2014 National "Tomás Ruiz Ovalle" Violin Competition of Mexico and the 2017 CSU Concerto Competition.
Frangel received a bachelor's degree in violin performance from the Superior School of Music of the National Institute of Fine Arts (Mexico) under Cuauhtémoc Rivera-Guzmán. He holds a master's degree in Music from the Colorado State University, where he studied with Dr. Ronald Francois and performed as concertmaster of the CSU Symphony Orchestra under Maestro Wes Kenney. During his doctoral studies at Western University, he studied with Annette-Barbara Vogel, and Lillian Scheirich.
Currently, he is writing a dissertation that applies Dr. Robert S. Hatten's Theory of Virtual Agency on Heinrich Biber's Rosary Sonatas. His research and performance interests are baroque and contemporary repertoire for violin, violin history, musical hermeneutics, rhetoric, music semiotics, and agency.