Chantal Lemire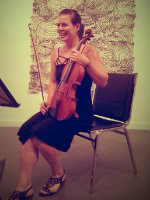 PhD Candidate
Music Theory
Office: TC 432
Email: clemire2@uwo.ca
Chantal Lemire is a PhD candidate at Western University. She received a Master of Music in viola performance from McGill University, and a Master of Arts in Music Theory from the University of British Columbia. Her research focuses on intersections of speech and music, exploring how elements of speech can be used as compositional material in both popular- and art-musics. Chantal has presented papers at the Canadian Music Centre, The Peabody Institute of Music, the Vancouver International Song Institute, as well as at several graduate student conferences across Canada. In 2013, she was awarded a Canada Graduate Scholarship from the Social Sciences and Humanities Research Council (SSHRC) for her doctoral project on text/music interactions in singer-songwriter Tom Waits's spoken-word songs.
As a violist, Chantal has performed in chamber ensembles across North America and Europe and with orchestras such as the National Youth Orchestra of Canada, the Prince George Symphony Orchestra, and the Winnipeg Symphony. She is currently a faculty member for the Orchestra North Summer Program in Owen Sound, Ontario, where she teaches violin, viola, and music theory.
Chantal sits on numerous university councils and committees at Western, most notably serving as chair of the Society of Graduate Students in Music for the 2014/2015 academic year, and as Accessibility Commissioner for the Society of Graduate Students in 2016. Outside the university community, Chantal is a member of the London chapter of Citizen's Climate Lobby, a non-profit, non-partisan, grassroots advocacy organization with a twin focus: to create the political will for a livable planet and to empower people to claim their political and personal power.