Noël Wan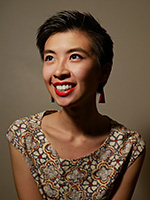 Assistant Professor
Harp
Office: MB 35
Phone: (519) 661-2111 x82043
Email: nwan9@uwo.ca
Taiwanese-American harpist Dr. Noël Wan (1994) collaborates with her instrument to explore convergences between body, identity, and space in musical performance. She recently completed research on new materialist-feminist perspectives of embodiment and sound in Georges Aperghis' theatre piece Fidélité: for female harpist watched by a man (1982).
Lauded as "a huge talent [with] hidden power and amazing maturity" (Bart van Oort), Noël made her international debut in 2010 performing Alberto Ginastera's Harp Concerto with the Utrecht Symphony Orchestra and appeared on the NPO Radio 4 program Spiegelzaal. As a soloist and ensemble harpist, she has performed at the Concertgebouw, the Muziekgebouw, the Vredenberg Leeuwenbergh, Eslite Hall, Carnegie Hall, Davies Symphony Hall, David Geffen Hall, Alice Tully Hall, Smetana Hall, Symphony Hall (Chicago), and the Yellow Barn Summer Music Festival. Noël has worked with John Adams, Natasha Brofsky, Valery Gergiev, Carolyn Kuan, Eduardo Leandro, Anthony Marwood, Kurt Masur, John Myerscough, Peter Oundjian, Benjamin Shwartz, Michael Tilson Thomas and has premiered works by Krists Auznieks, Daníel Bjarnason, Kyong-Mee Choi, David Feurzeig, Dongryul Lee, Philippe Schoeller, Augusta Read Thomas, Stephen Andrew Taylor, and Dmitry Tymoczko. She can be heard on her debut solo album The Secret Garden (2010) and with the Illinois Modern Ensemble on Dmitri Tymoczko's album Fools and Angels (2018, Panoramic/New Focus).
Also an international prize-winning harpist, Noël is the youngest First Prize winner in the history of the Dutch Harp Festival Competition; the only two-time harp recipient of the Chimei Arts Foundation Award; and the only harpist to have won Grand Prize in the Carmel Music Society Instrumental Competition and First Prize in the Pacific Musical Society Instrumental Competition.

Noël is an alumna of the University of Illinois (BM, DMA), where she was a 2016-2019 Illinois Distinguished Fellow, and the Yale School of Music (MM). She has given masterclasses in North America and Asia and has held teaching appointments at the University of Illinois, the University of Notre Dame, and Saint Mary's College in South Bend, Indiana. In Fall 2020 she will begin her appointment as Assistant Professor of Harp at Western University.
Born in the San Francisco Bay Area, Noël has since called many other places "home"—Illinois, Connecticut, the Netherlands, and Taiwan. She currently lives in London, Ontario with her husband, choral conductor/composer Patrick Murray, and her tuxedo cat Georgina.
For more information, visit www.nywharp.com