Liza Balkan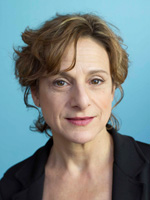 Lecturer
Office: TC 120
Phone: (519) 661-2111 x82043
Email: lbalkan@uwo.ca
Liza Balkan is an accomplished Ontario based, multi-disciplinary theatre artist. She works as a director, librettist, writer, educator, and actor. Liza's directing credits include Much Ado about Nothing (Shakespeare in High Park/Canadian Stage), Every Brilliant Thing starring Rebecca Northan (Grand Theatre London), the premiere staged production of Stephanie Martin's opera Llandovery Castle (Opera Laurier), the Canadian Premiere of Louis Andriessen's chamber opera Anais Nin starring Wallis Giunta (Koerner Hall /RCM), The Brothers Grimm (COC Ensemble), Montsalvatge's El Gato con Botas and Berio's Folk Songs (GGS/RCM ),and Bicycle Opera Project's summer seasons and performance at 21C Festival (Koerner Hall).
Through a multi–year Residency at the Theatre Centre, she developed her documentary/verbatim project about policing, mental health, race, and the law entitled Out the Window. The show was first produced at TTC in 2012. It received a production at Toronto's International Luminato Festival in 2018.
Liza's collaborations as a librettist have been produced by Tapestry Opera, 5 Boroughs Song Book (NYC), Scrag Mountain Music (Vermont), Opera McGill and Bicycle Opera Project ad Brooklyn Art Song Society. Liza most recently wrote the libretto for the world premiere of composer Brian Current's GOULD'S WALL. Produced by Tapestry opera , RCM/Koerner and Manic Star, the opera was performed on the historic wall in the Atrium at RCM/Koerner in August 2022. Prior to that, Liza collaborated with composer Lembit Beecher on the song cycle After the Fires, which premiered in New York in April 2022, produced by Brooklyn Art Song Society. The work will have its Candian premiere at RCM's 21C Festival in January 2023. Liza created, directed and wrote the lyrics for the song cycle So, how's it been, performed outdoors at Here for Now Theatre in Stratford, Ontario, in 2021. As an actor, she has performed in multiple productions across Canada and in the US, receiving a Dora Award for her performance in Still The Night (Theatre Passe Muraille/Tapestry) and a nomination for Calgary's Betty Mitchell Award during the show's cross–Canada tour. Liza continues her busy practice as an educator and mentor and has been an instructor at the Don Wright Faculty of Music/Western, Humber College, George Brown College, University of Windsor, RCM/GGS, Laurier, Ryerson, Randolph Academy, CCPA (Victoria) and the Birmingham Conservatory at the Stratford Festival.