Jennie Such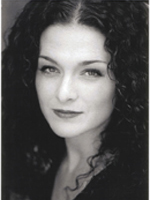 Lecturer
Voice
Office: MB 213
Phone: (519) 661-2111 x85015
Email: jsuch2@uwo.ca
As a classical singer who has built a performing career in Canada over twenty years, versatility has always been the hallmark of Jennie Such's work as a performer and a teacher. On stage she has performed many genres of music including opera, oratorio, art song recital, musical theatre with opera companies as well as commercial musical theatre.
Memorable singing highlights have included the roles of Janine/Ofwarren in The Handmaid's Tale (Canadian Opera Company), Johanna in Sweeney Todd (Calgary Opera), Yum Yum in The Mikado (Edmonton Opera), Susanna in Le Nozze di Figaro (Opera Ontario), Amor in Orfeo ed Euridice (Opera Atelier), Bianca in The Taming of the Shrew (Pacific Opera Victoria) and Sister Sophia in The Sound of Music (Mirvish Productions).
On the concert stage Jennie has had the opportunity to sing as a soloist with national and international orchestras and choirs, including the Victoria Symphony, CBC Radio Orchestra, Winnipeg Symphony, National Ballet Orchestra, Symphony Nova Scotia, at the Gewandhaus in Leipzig with the MDR Orchestra and Radio Choir, and at the Händel Festival in Halle, Germany.
Jennie has been featured as a soloist in live radio broadcasts on the CBC, BBC, and MDR (Germany).
This versatility has carried through into her work as a teacher. In 2011 she joined the Canadian Company of Billy Elliot in Toronto as the resident Vocal Coach. In this production she worked extensively with youth and adult actors, and helped the young actors in the roles of "Billy" navigate the uncertainties of the pubescent vocal change.
She is currently in her fifth season as the Singing Coach for the Musical and Acting Companies at the Stratford Festival. In this position she works closely with performers who are singing roles in the musicals, and with actors who are required to sing in plays. 2017/18 marks her second season as the Singing Coach at the Birmingham Conservatory for Classical Theatre at the Stratford Festival, where she is privileged to work with many young, emerging artists.
Jennie is a member of the Voice Faculties at Western University and Laurier University. She is an alumna of Western.