Filip Stasiak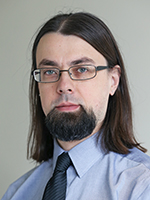 Lecturer
Instructor - Strings II (double bass)
Office: TC 322
Phone: (519) 661-2111 x82043
Email: fstasia@uwo.ca
Filip Stasiak, Double Bassist, holds a Diploma in Chamber Music from Wilfrid Laurier University, a MMus in Literature and Performance from the University of Western Ontario, and a BMus from Wayne State University in Detroit. His primary instructors have included the late Detroit Symphony Bassist Maxim Janowsky, members of the Penderecki String Quartet, and UWO professor Jeffrey Stokes.  In addition to university training, Stasiak has spent multiple summers at the Orford Arts Centre studying with world renowned double bass virtuoso Joel Quarrington.
As a performer, Stasiak is currently a member of the Niagara Symphony, the International Symphony, London's award-winning world music group The Light of East Ensemble, and works as a freelance player with orchestras, chamber ensembles, and music theatre productions throughout Ontario. A recent interest in period performance has led Stasiak to study with Tafelmusik at both their Summer and Winter institutes, and subsequently to perform with Toronto's Talisker Players and the Aradia Ensemble. 
As an educator, Stasiak maintains a large private studio in London Ontario and is a double bass instructor in the Music Education Department at Western University.