Adrian Wright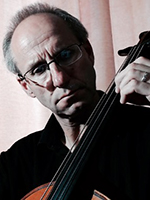 Lecturer
Instructor - Strings II (cello)
Office: TC 16
Phone: (519) 661-2111 x82043
Email: awrigh94@uwo.ca
The major part of Adrian Wright's work as a cellist was spent as a member of the National Orchestra of Wales in Cardiff, U.K. The broad repertoire of a BBC orchestra and significant resources of the BBC made this an interesting time. During his years in the U.K., Adrian was able to work with a number of orchestras on a freelance basis.
He had experience as a cello teacher in school and private studio settings and learned much from some consultation lessons that he had with the inspirational cello teacher Joan Dickson. Later several years of lessons with an Alexander Method Teacher taught him much about natural, active and effective posture and technique.
Presently Adrian is enjoying a varied professional life. He is a lecturer at the Don Wright Faculty of Music in the Music Education Dept. helping aspiring high school teachers understand the cello and cello technique. He has a private studio, plays in a number of chamber ensembles and freelances, mainly with Orchestra London.
In September 2019 he starts as cello teacher at the London Waldorf School and is excited to work in such a refreshing environment with the under 10s, a new departure.
Adrian received his training as a cellist from the Royal Academy of Music in London, U.K. and prior to that three years with the National Youth Orchestra of Great Britain had a considerable influence on the course of his life.