Choral Music Education Summer Session: Explorations in Gesture, Sound and Pedagogy
Saturday, August 26 - Wednesday, August 30, 2017
Western's Don Wright Faculty of Music is pleased to offer a 5-day intensive course, designed for choral music educators of all levels of experience. School, community and church choir directors along with those currently engaged in the formal study of choral conducting will benefit from the guidance and support of conductors Lydia Adams, Gloria Gassi, and Jennifer Moir, as well as Lightner Method founder, Babette Lightner, as they move through the course content.
Program details
Through a balanced offering of interactive activities, group discussion and individual coaching, conductors will:
Explore their capacity to perceive, interpret and express/respond to music with freedom, clarity and confidence in rehearsal and performance situations.
Expand their expressive range as a conductor
Examine the differences between authentic, natural expression and artistic "demonstration" in gesture.
Create a vocabulary of whole body dynamic expression 
Learn to distinguish tension and grip from expression and power
Explore a pedagogical approach, which supports and fosters learning.
Gain practical tools to function and teach in a way that  prevents pain and injury in themselves and those they conduct
Examine their role as music educators beyond their time on the podium to help deepen their understanding of choral music education

Strengthen their network of choral music educators in Ontario and beyond.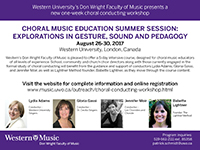 Download e-card:
PDF version 
JPG (image) version

Unit 1: A musician's guide to the body:
An experiential and cognitive understanding of the body and it's design that supports our ability to move with clarity, ease, freedom and power

Unit 2: A musician's guide to whole body dynamic range and expression
Movement explorations and exercises designed to expand our expressive range, build comfort in movement qualities that are different from our affinity and open creative doors.

Unit 3: A Practical Application Lab
Hands on podium time to explore applications of Unit 1&2 with the class choir

Unit 4: Conductor's Roundtable: Special Topics
Time for sharing information and resources pertinent to today's choral conductor through group discussion. Topics will be chosen to best support the needs of the students enrolled in the course. Possibilities to include: repertoire think tank, the business of choirs, etc.
Cost
$595 for full session (5 days), or $125 to attend one day (+ HST)

This course is also available for graduate credit. If you are interested in this option please contact the Graduate Assistant Audrey Yardley-Jones at ayardley@uwo.ca. 
Sample Daily Schedule
9:00 a.m.  Musician's Guide to the Body:  Wholeness in Motion
10:00 a.m. Voice Education
10:30 a.m. Break
10:45 a.m. Conducting Gesture and Sound Lab
12:30 p.m. Lunch break
1:30 p.m. Rehearsal of Repertoire
2:30 p.m. Discussion
3:00 p.m. Break
3:15 p.m. Special Topics
4:15 p.m. Well Being
Registration
This course has reached capacity. Registration is now closed. Please contact the event organizers with any questions.
Location
Don Wright Faculty of Music, Western University (Music Building and/or Talbot College - exact rooms TBC)
DIRECTIONS
Contact us
Patrick Schmidt
Chair, Music Education Department
patrick.schmidt@uwo.ca
Accommodations
Guest House on the Mount
(519) 641-8100
http://guesthouseonthemount.ca
Current Rates Online:
        
Twin Bed, Shared Bath  $39.00
Twin Bed, Half Bath  $49.00
Queen Bed, Shared Bath  $59.00
Queen Bed, Half Bath  $69.00
Queen Bed, Full Bath $89.00
2 Twin Beds, Half Bath  $69.00
2 Twin Beds, Full Bath  $89.00
Family Suites
3 Person, Half Bath  $89.00
4 Person, Shared Bath  $99.00
Long term rates are available for guests staying one week or more. Please inquire.