Nicolas Carlucci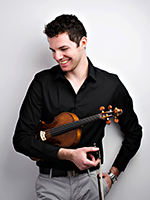 Lecturer
Violin
Office: MB 309
Phone: (519) 661-2111 x85619
Email: ncarluc@uwo.ca
Nic Carlucci is a freelance violinist and violin instructor throughout South-Western Ontario. As a passionate teacher, he has spent several years building his private violin studio, is a faculty member at the Wilfrid Laurier University String Academy, and additionally serves as a Violin Lecturer at Western University.
Carlucci has also taught with and built curriculum for Forest City Talent Education, El Sistema South London, and El Sistema Aeolian. As an advocate for music in the community, he has coached the violins of the London Youth Symphony, and adjudicated for the Rotary Club Music Festival and Magisterra Soloists Young Performer's Award.
His education includes a master's degree in Violin Performance and Literature with Professor Annette-Barbara Vogel from The University of Western Ontario, a Chamber Music Diploma with Professor Jerzy Kaplanek and the Penderecki String Quartet from Wilfrid Laurier University, and an undergraduate degree in Music Education with Instructor Mel Martin from The University of Western Ontario.
A keen interest in chamber music has led him across North America and parts of the Southern Hemisphere in both his studies and as a performer. Locally, Carlucci performs with several ensembles, most notably Magisterra Soloists International Chamber Players (of which he is also a core member of the administrative team), Quartet di Altezza, and London Symphonia. He has participated in three tours with Magisterra Soloists, which have included destinations within Ontario, Quebec, and Brazil.